This article explains how to Awe Walk, and why everybody should take time to do it.
What is Awe-Walking? 
Awe-Walking is not your typical stroll around the block. This type of walking focuses on appreciating your surroundings using mindfulness. It's done to reach a 'state of awe'.  
The awe state is thought to be a sensation of humbleness. It's the feeling that you are part of something bigger as you open your mind to the world around you. Like when you stand on a sandy beach, feeling that you are a spec of sand in the vastness of the universe. Or standing on top of a tall building and seeing the night lit up by a city. 
This state of mind, feeling you are in the presence of something bigger, detracts you from your own life. Everyday stresses, work, commitments and responsibilities feel dwarfed for a while.  
Awe Walking is essentially experiencing places and feelings fully. Often, places that make you stand back in appreciation. So something a bit more interesting than the local park! Alternatively, awe walking can give you a newfound appreciation for places you love already. 
How to Awe Walk 
Awe walking is a meditative practice. So, it can ground you, distract you from your worries and make you feel more alive.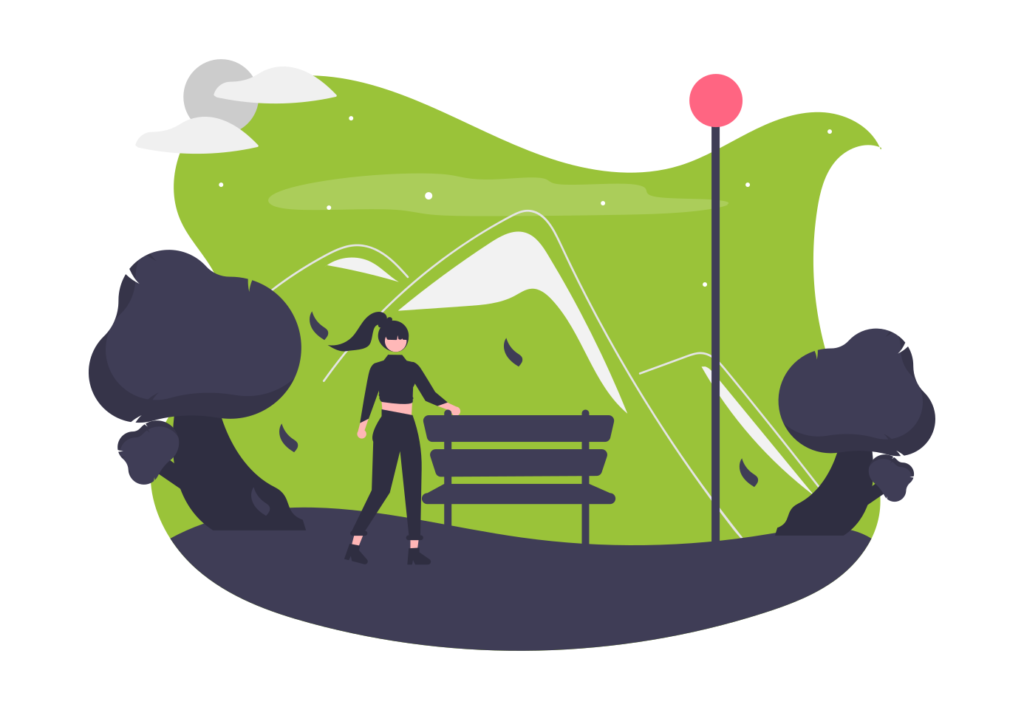 The first stage of Awe Walking is to get into the zone. Switch your phone off, be fully immersed with the moment, the sights and sounds.  
Once you have found a state of mind that allows you to be in the moment, focus on your breathing. Breath in for 6 and out for 6 as you prepare to start your walk. Keep an open mind. Continue to use this breathing pattern as you venture on. 
Throughout this walk, you will combine breathing with focus, taking in everything around you. Feel the air in your lungs, the smells and sights – big and small. Focus on shapes, colours, patterns.  
Here is a step-to-step guide on exactly how to Awe Walk, to get the most of out the experience: How to Awe Walk.
The Complicated Bond Between Humans and Nature 
What is your relationship to the earth? Do you feel the urge to see new places, or are you more comfortable staying put?
The current state of the world can make it difficult to feel connected to nature sometimes. And being in nature might sometimes feel like a reminder of the bad that is happening. Like an internal battle of knowing things need to change and feeling out of control. 
Technology has made it easier to see the world's wonders on screens from our homes. But it's just not the same! You can't reap the rewards of being in nature through a screen. It's a real issue for younger generations, who have been born into this online world.  
New generations may never truly understand what beauty has been lost already. Older generations have witnessed the earth's decline – species dying, changes in weather etc. Some may even be afraid of nature in all its power. But really, we just need to appreciate it and look after it more. 
The truth is, the more we spend time in nature, and remember its value, the more we care and want to protect it. Being in nature soothes and nurtures us. It is humanity's free remedy – to escape the stress and feel grounded.  
Why Awe Walking is Effective  
Turning your walks into Awe Walks helps you to notice the beauty in everyday life. Regularly taking time out of your week to do this has many health benefits. It can reduce stress and inflammation, boost creativity and open your mind. You can try awe walking with friends and family as a social event too!
UCSF researchers conducted a study to assess the power of Awe-Walking. They asked 52 older adults to take a weekly stroll. Some were told to seek out physical vastness and novelty (Awe Walking). The others were told to take a regular walk. The ones who went Awe-Walking reported significant increases in compassion and gratitude. Also, their sense of wonder and appreciation for the outside world grew, among other benefits. 
This research is an example of how Awe-Walking can broaden the mind, heighten the senses and generally lift spirits.
To Conclude… 
Walking in general has many health benefits. But Awe Walking takes it to the next level. Take fifteen minutes out of your week to try it out! It's always good to get out of the house and explore the world – it has a lot to offer! 
For more help nurturing your personal growth, contact us at Ceed today!